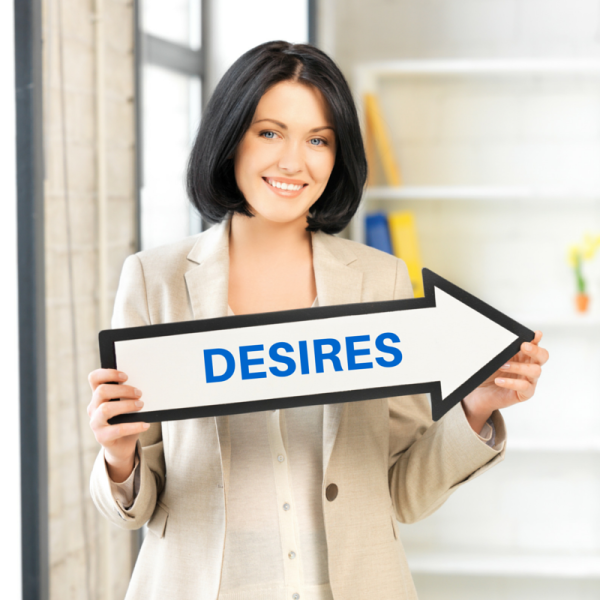 Desires drive your behavior every day.  If a business or person can convince you how to fill your deepest desires, you may take immediate ACTION. You only have to scan through Facebook to witness the happy and sad results of people attempting to fulfill their desires! Here's the good news. If going after your desires leads you to sorrow, you CAN change your focus and discover the path to joy.
The Nature of Desire
A desire represents something that is very important to you. The longing is so deep that it flows from the heart of who you are. Examples of these desires or longings are love, belonging, comfort, security, approval, peace, joy, and freedom. We all have them…they are God-given.
Where we face problems is how we choose to fulfill our desires. God has always intended for us to fulfill the desires of our heart through Him.
That is why Proverbs 4:23 warns: "Above all else, guard your heart, for everything you do flows from it." If you do not guard your heart and keep it focused on God, then you may try to fulfill your desires in ways that bring frustration and sadness rather than joy.
Desires that Result in Sorrow
I have a beloved son who has a wonderful heart. He has always had a deep desire for relationships with a few trustworthy and loving people. The desire of his heart was to be loved, to feel approval, and to belong.
During his college years, he broke up with his long-time girlfriend and faced some significant trauma with a family member. He avoided the pain of his loss by turning to prescription painkillers. Although he desired love and friendship, the more he used drugs to mask his loss, the more he pushed others way because of his addiction. The very relationships that could give him the sense of belonging that he sought were damaged by his choices and unguarded heart.
The good news is that my son is fully restored today. The desires of his heart are being filled through healthy relationships.
Desires that Create Joy
Psalm 37:4 reminds us to "Take delight in the Lord, and he will give you the desires of your heart." Here lies the key to our joy.
Focus on God and his purposes
When you do, God will fulfill the desires of your heart.
In some ways, I am like my son. I pursued my desires for love, belonging and approval through success in business. Although I enjoyed outward success, I rarely felt like I belonged and client approval was always fleeting. I discovered that God met my true desire for belonging as I developed a friendship with Him through prayer.  In the prayer room with God, I found true joy!
How to Change the Focus of Your Desires
The first sign that your desires may be leading you astray is when you believe an object or an outcome will fulfill the longing in our heart. Drugs were not the answer for my son. A new car, a salary increase, a promotion, or any other hopeful outcome is not your answer, either.
Begin simply. Just talk to Jesus. Ask him to fill your desire today. For example, "Jesus what do you want to say to me when I don't feel like I belong?" Or, "Jesus, what do you love most about me?"
Journal what you hear…trust what you hear…. believe what you hear. Know that the Creator of the Universe is waiting to have a personal, intimate relationship with you. You are greatly loved. He is waiting to respond!
The next time you are tempted to respond to an advertiser and buy their latest product, STOP and guard your heart. Go to Jesus first. You won't be disappointed.
———————-
*
If you want to learn more about how Jesus can meet your deepest desires, I highly recommend "Questions for Jesus" by Tony Stoltzfus.