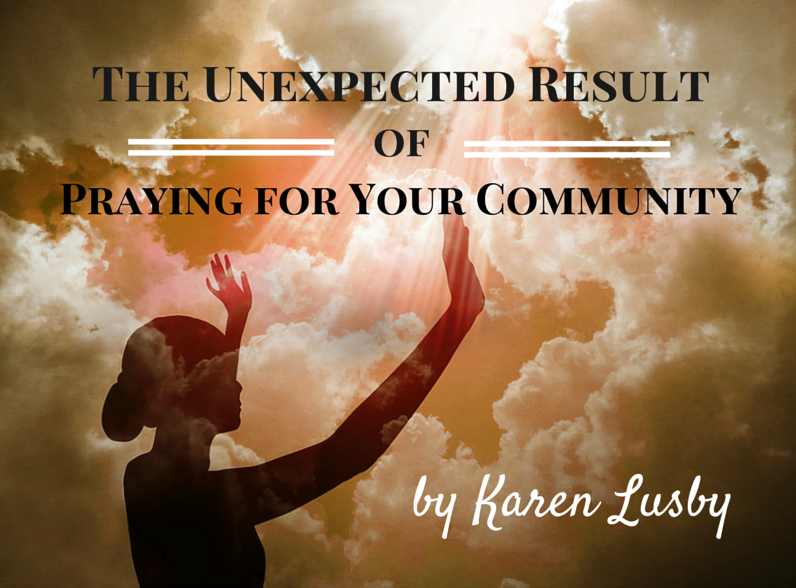 Years ago, I heard two African pastors crying out to God at a community prayer meeting in Golden, Colorado. These two men weren't just making prayer requests to heaven. They seemed intimately connected with God and were praying powerfully for the community.

In that moment, God did that thing that only God can do. He stirred my heart with a deep yearning for more. I knew I wanted to pray authentic and bold prayers. What I didn't know was the unexpected, surprising and life-changing outcome of learning from these men.
What I observed that day was intercessory prayer. It's the act of praying to God on behalf of others. (For more information, read Intercessory Prayer by Dutch Sheets).
I began learning to hear God's voice and praying His desires for our community. As I prayed corporately with others, we witnessed many positive changes. The physical needs of many people were met as the local churches began to unite. God was moving!
What surprised me the most – the unexpected result of all our prayer – was not the uniting of the churches, but the mighty work God accomplished in the people praying.
I discovered first-hand that God cares immensely about the condition of our hearts and minds, no matter who or for what we are praying. Through prayer, he addresses three key areas in our lives:
God uses prayer to draw you closer to Him. James 4:8 says "Draw near to God, and He will draw near to you." Spending time in prayer and worship draws you into a deeper relationship with God. You begin your relationship as an acquaintance, not really knowing each other intimately. Deeper friendship comes as you learn and see who He truly is and how He responds. You come to know His character and your trust in Him grows.
God uses prayer for others to first change you. Mature spiritual mentors will always focus your attention on God's Word as you pray for your communities and businesses. As you pray using scripture, God will reveal your own sin, improper beliefs, unhealed wounds from the past and much more because He wants you whole, healed, and with a clean heart. He wants you to be pure and righteous. 1 Peter 3:12 says "The eyes of the Lord are upon the righteous and His Ears are open to their prayers." James 5:16 says "The prayer of a righteous person is powerful and effective." God will do a mighty work in you as you seek Him on behalf of others. He will transform you and purify you!
God uses prayer to teach us about His character and your identity. To pray effectively, you must know who God is and who you are to Him. A deep and abiding relationship is available to you as you come to know Him through the Word and how he responds to you in prayer. You also begin to understand the inheritance and authority that you received through Christ's finished work on the cross. You are holy, righteous, a co-heir with Christ, and so much more!
As you begin praying for your community, be prepared for the work that God is going to do in you FIRST. God will address the condition of your heart and mind as He draws you near to Him, begins to transform you, and grounds you in your identity. (He will do the same when you pray for a business, church, or any other entity!)
Seeking God through prayer is so worth it…you will be changed…you will be blessed. And, so will your community. It just may not be the way you expect. God's ways are never our ways!
Have you had similar prayer experiences? Has God shown you a similar process? I would love your feedback in the comment box below.