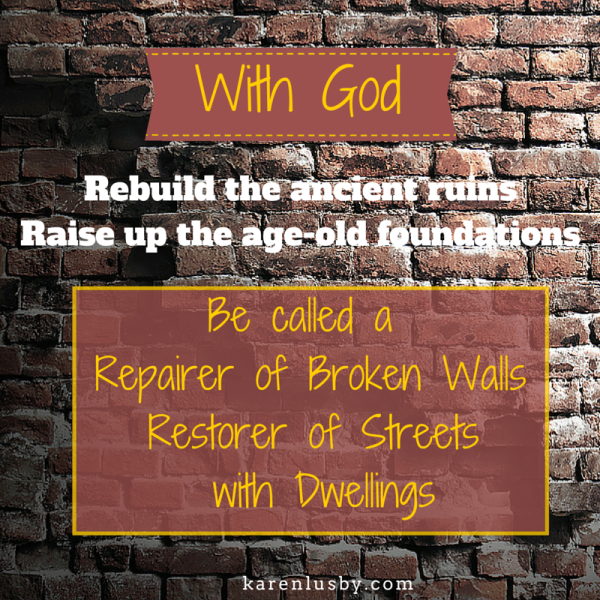 I discovered through the school of hard knocks is that God WILL fix your mistakes. If you pursue a relationship with Him, He will redeem and restore those parts of you that were lost through poor choices. It's a process available to each and every one one of us!
God tells us in Isaiah 58:12 that He rebuilds, raises up, and repairs all our broken walls and the ancient ruins in our lives. The Message says it this way:
'You'll use the old rubble of past lives to build anew, rebuild the foundations from out of your past. You'll be known as those who can fix anything, restore old ruins, rebuild and renovate, make the community livable again.
 God's very nature includes that of redeeming… and that is his plan for you."
Yes, God's very nature is one that wants to fully fix your mistakes and redeem you! I have experienced His redemptive heart in my own life and in my family many times.The first time was quite unexpected!
Although now happily married, I was involved with several men when I was younger. I had shared parts of myself – heart, soul, and body – with them that were in opposition to God's Word. I knew it at the time, but chose to stubbornly follow my own path.
As I grew in my walk with the Lord, I repented and asked for forgiveness for my past choices. I knew I had been forgiven, but I beat myself up with remorse, partly because I had sought love in all the wrong ways. We had shared inappropriately and taken a part of each other that was intended for marriage. I felt attached in some odd way to these old relationships. Some people would call this a "soul tie."
One day I shared my dilemma with a good friend. Rather than judging me or empathizing with my remorseful condition, she shared a simple truth. She suggested that I ask God to restore back to me that intimate piece of myself that I shared with another. I also asked the same for the other person. It was intriguing. Through a prayerful request, God made me new once again!
Restore means to "return to." To be restored we are to return to God. When we turn our eyes to Him, He will mend and return to us the purity we have lost by our poor choices.
With a heart full of faith, I asked God to restore that intimate part of me I had lost. In that moment, I experienced His transforming work. I knew in my spirit that I had regained lost parts of myself. I am still amazed and forever thankful for what God did that day!
Be encouraged. Be filled with faith. Know that you can always come before God with the burdens of your past. God will fix our mistakes when we call out to Him, repent, and ask for forgiveness and restoration.
Remember, too, that no life experience is ever wasted in God's Kingdom when we allow Him to reign. I believe that my repentance and restoration brought some healing to those I had impacted. He will use you to rebuild your own broken walls and restore your foundations, AND those of others.
I would so appreciate your comments. Please go to my Facebook page and share your thoughts on this post. Thank you!